Art gallery show cases student work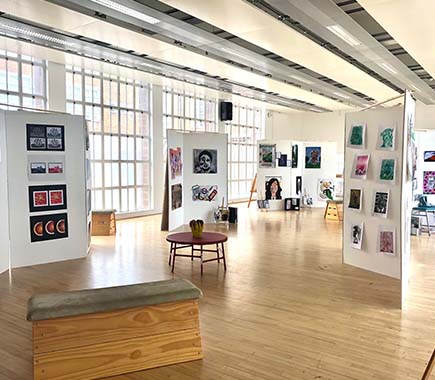 Welcome to our school gallery,
A magnificent space was created in our Grade II listed old gymnasium to show case the incredible talent we have at Heron Hall across all of our age groups.
We are so proud of our students we were determined that they would have a gallery as good as anywhere in London!

In July 2019, we held our first ever arts show, bringing together some of the finiest work from our Year 9, 10 and 11 groups.
Painting, sculpture, screen printing, drawing and installation pieces all featured in what was a packed but very cleverly curated show.

A prestigious judging panel, which included headteacher, Arthur Barzey, Despina Johnson, CEO, Enterprise Enfield, CHAT CEO, Marino Charalambous, Welfare officer, Kumba Sandi,  and Cllr Doug Taylor, former Leader of Enfield Council, made their selctions to choose overall winners.
Student musicians, actors and poets supported the event with performances outside the gallery.
Comments from parents about the show included: "Absolutely stunning.....incredible....the school has great artistic talent....what an incredible venue, I thought I was in a West End gallery!"
Chair of the judging panel, Despina Johnson said: "The art on display was stunning. The standard across 90 different works was very, very high."

A selction of the works on display