Welcome to our new reading campaign.

At Heron Hall Academy we are very proud of our English and library departments and the way we encourage our students to read more.
We all know that there are numerous benefits to reading.

An emphasis on reading and student literacy helps develop higher levels of focus and concentration.
Reading also helps to strengthen memory retention skills. That's a powerful tool for young students.
We need our families to encourage more reading outside of school and in the home.
That is why we are launching a new campaign to get our young people to read more in partnership with families.
Can you help us do this?

There will be hints and tips to support you at home, competitions with great prizes, and much, much more.

Top tips for encouraging reading at home

Read together 20 mins every day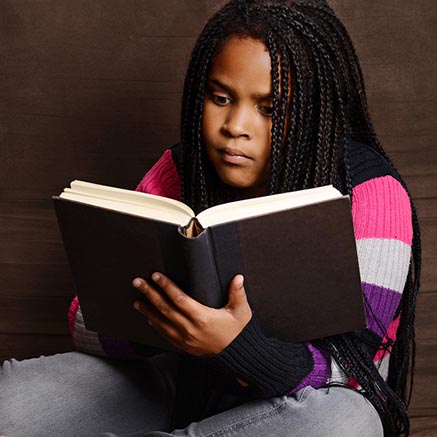 What the research says

Vocabulary - Children who read for 20 minutes a day, acquire 1.8 million words per year, in comparison, with a child who reads for one minute a day, who will learn only 8,000 words per year!

Brain development - reading for pleasure is more important for children's brain development than their parents' level of education and is a more powerful factor in life achievement than socio-economic background.

Health & wellbeing - Children who are the most engaged with literacy are three times more likely to have higher levels of mental wellbeing than children who are the least engaged

Professional employment - 16-year-olds who choose to read books for pleasure outside of school are more likely to secure managerial or professional jobs in later life.

Confidence - having books in the home is associated with both reading enjoyment and confidence.
Of children who report having fewer than 10 books in their homes, 42% say they do not like reading and only 32% say they are 'very confident' readers.
For children who report having over 200 books at home, only 12% say they do not like reading and 73% consider themselves 'very confident' readers.  

Better grades - children who read books regularly are more likely at age 16 to gain better results than those who do not.
Need help?

If you need any help or advice please contact us [email protected]

Strategies for parents to support reading at home
Reading aloud - with children, even if the language is not the parents' first language is beneficial to students.
Talk - to children about the book they are reading

Predict - Ask 'What will happen next? 'What could happen at the end?'

Look - at the front cover together and guess what the book might be about?

Choose - 3-5 unfamiliar words and test understanding?

Discuss – using open ended questions 'What is your opinion so far?' 'Describe the main themes involved?' 'Explain how you felt reading this…'

Role model – children who observe their parents reading and grow up with reading material at home are likely to become confident and enthusiastic readers. 
Quality time – reading with your child develops close bonds and it's an opportunity to spend quality time together and as a whole family.

Range of reading – offer children the opportunity to positively explore different types of reading material such as graphic novels and Manga, comics, magazines, e-books & audiobooks; this extends to personal areas of interest, e.g. science, art, sport and mental health. It's also important for children to see themselves and their experiences reflected in reading material; there are also many diverse books that are inclusive and reflect family backgrounds.

School staff – have positive influences over young peoples' reading habits along with yourselves, as parents & carers, and their peers. Speak to your child's teacher if you are concerned about their reading and encourage your child to engage with the peers about they're reading too.
Join your local library!
They offer many free services that not only support access to reading material for your children. They also offer free reading material for the whole family and free online council services and community learning programmes. Find out more here.

The School library
Encourage your child to regularly visit the library at Heron Hall Academy and speak to library staff. In addition to reading material, it is a safe and calm space to visit.
There are often events & displays to support your child's development and interest in the world around them.