So proud of our Year 11s!
The school is celebrating another great set of GCSE results this year. 
At Heron Hall, we believe in fostering an environment where students can thrive academically and personally. The latest GCSE results underscore the commitment of both students and teachers to the pursuit of excellence. These results are not just numbers; they represent the culmination of hours of study, the guidance of our teachers, and the support of families.
In the face of challenges, our students have demonstrated resilience and adaptability, qualities that are essential for success in both education and life. This year's results are a reflection of not only academic accomplishment but also the development of skills that will serve our students well beyond the classroom.

Mr. Arthur Barzey, Headteacher says: 

"I am delighted to celebrate today's impressive GCSE results, which stand as a testament to our students' dedication and perseverance. Their hard work has paid off, and I couldn't be prouder of their achievements.
As they embark on the next stage of their journey, I wish each student the best of luck in all their future endeavors."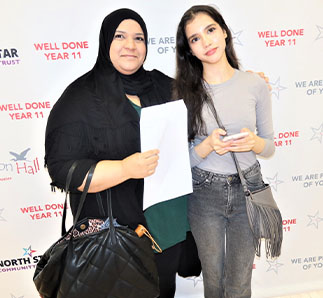 Celebrating some of our top performers
Fadil Mohamed Including 9 Grade 9s & 4 Grade 8s.
Faiza Ahmed El Arbi Including 6 Grade 9s & 5 Grade 8s.

Sumayyah Sheikh-Nur Including 6 Grade 9s & 1 Grade 8.
Chloe Edole Pearson Including 6 Grade 8s & 5 Grade 7s.
Ameelia Roojee Including 4 Grade 8s & 5 Grade 7s.
Sihaam Mohamed Including 2 Grade 9s & 4 Grade 8s.
Davide Halip Including 4 Grade 8s & 5 Grade 7s.
Nathan Rameshwar Including 4 Grade 8s & 5 Grade 7s.
Yousef El Moutawakil Including 1 Grade 9 & 2 Grade 8s.
Danielle Amofa Including 3 Grade 9s & 3 Grade 8s.
Sumayyah Ozturk Including 5 Grade 8s & 2 Grade 7s.