School uniform at Heron Hall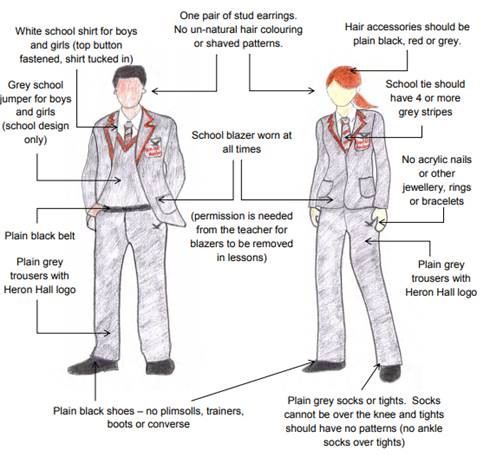 Look smart.  Think smart.  Act smart!  

Uniform is expensive and therefore before purchasing shoes and other items please check the photographs on the website for the style of shoe and other uniform items. 
All school uniform including PE kit should be clearly labelled with your name. It is the student's responsibility to look after all uniform items but this will help in returning it should it be lost.
Make sure you wear your uniform correctly at all times.  You need to make sure that you have all the items that you need and that you look smart.  Shirts must be tucked in, buttons done up!
If you forget items of uniform, you may get a detention. 
If your shirt is untucked, your top button is undone, you are not wearing your blazer or you look scruffy you may be given a 'blue slip'. 
A blue slip is a detention that last for 30 minutes after school.  If you are given a detention during the school day you may have to stay behind on the same day so always make sure your uniform is neat and tidy.
Please be advised that jumpers are optional and are not required in warm weather.