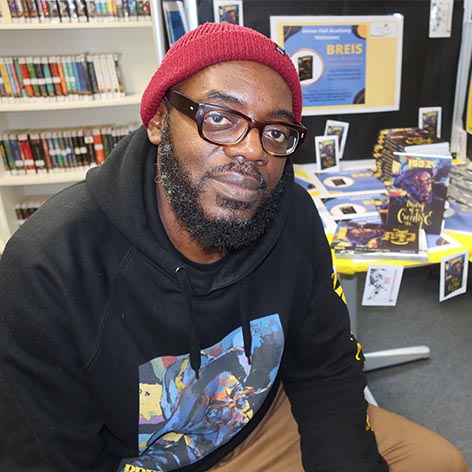 How we are celebrating World Book Day in 2022
Each year we mark World Book Day at Heron Hall with the aim of it celebrating authors, books, illustrators and - of course - reading!
You can find out more about national World Book Day 2022 here.
We are planning one of our biggest ever celebrations of the day with a whole series of events across the school.
There will be numerous activities for our students to get involved with and special competitions to enter.
What's coming up?

There will be an assembly and workshops for students with the brilliant author and rap artist Breis.

We have a great competition with teachers taking a picture of their favourite book with a riddle, which the children are asked to solve. 
Students will also be asked to re-design their favourite book cover - with the nce to win Amazon book vouchers.

Staff  will dress-up in a costume that is linked in a novel to another member of staff. Students will be given a sheet to fill in and try to link the staff. Amazon vouchers to the winners.

Students will fill out an index card with a book which has meant the world to them… Let it be your Write of Passage to share with others!
The school will be making a Reading tree for the library. Staff  and students will write the name of their favourite book on a 'tree leaf' and hang it from the tree. This will make a lovely display and a great talking point.
Finally, you can read lots of facts about the benefits of reading here.