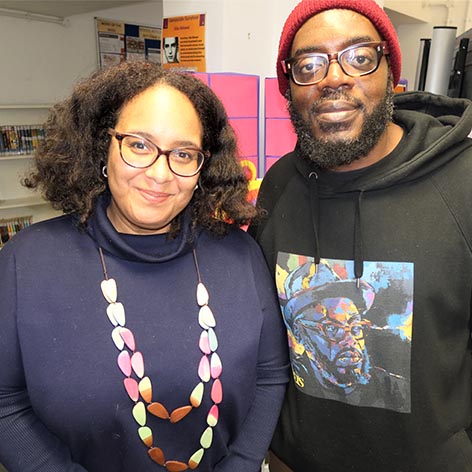 Years 7, 8 & 9 had a series of fantastic workshops with author, poet and rapper BREIS this week.
The events, together with an assembly, are part of the school's celebration of World Book Day
The workshops were held in the school library.
The theme of the day was creating your own rhyming couplets .
The students then had the chance to read their poems out and receive feedback.
BREIS always gave a very well received assembly to our year groups.
BRIES
BREIS (pronounced breeze) is a dynamic rap artist of Nigerian heritage based in South London.

As a respected purveyor of lyricism, BREIS' smooth flow is full of witty lyrics, peppered with wordplay, humour and substance.

He's a remarkable live performer who has performed worldwide with his fusion of Hip Hop, Jazz and Afrobeat rhythms.

In 2011, BREIS wrote his first book entitled, "Brilliant Rappers Educate Intelligent Students." It contains his lyrics and the inspiration behind them.

His most recent book, "Diary of a Creative Mind" is a personal memoir written with fellow entrepreneurs and independent artists in mind. Full of anecdotes, wisdom and lyrics from his Arise & Shine EP, the diary is a joy to read.