The benefits of homework

Homework is vital for academic success. Specifically, homework:
raises attainment;
adds a substantial amount of study time to a pupil's education;
offers opportunities for work which is independent of the teacher;
can exploit materials and sources of information which are not accessible in the classroom;
allows pupils to complete work started in the school;
allows pupils to practice skills learned in the classroom;

checks pupils have understood classwork;
permits the setting of tasks in accordance with the ability of the pupil;
strengthens the home-school links and parental involvement by increasing their understanding of what their children are learning in school;
set on a regular basis, encourages good study habits and ensures that work becomes part of the culture.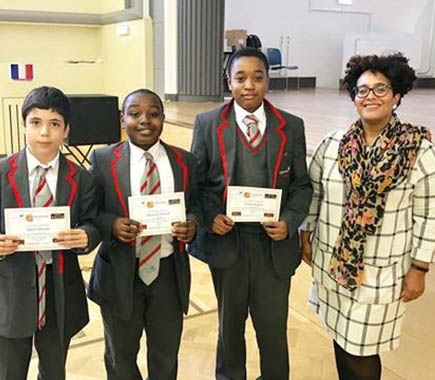 Reading at home - 30 minutes, every student, every day.
Reading is one of the most important skills that we develop in life and we are working very hard to ensure that our students develop these skills during their school day.
Research indicates that children and young peoples' reading skills develop further from the support they receive at home by: reading regularly; parents and carers showing an interest in their child's reading; purchasing or borrowing books for the home and visiting their local library regularly.
We are asking that your child commits to reading for a minimum of 30 minutes per day. There have been changes in the demands of GCSEs and the GCSE exams are written with a reading age of 16 years old, students who are below this reading age at the time of sitting their exams will find the exams more challenging. Aside from the GCSE expectations, there are many benefits to reading at home, it supports:
•    Literacy skills: reading, writing, listening & speaking
•    Relaxation & mental wellbeing
•    Focus and concentration
•    Development of general knowledge, interests & curiosity
•    Bonding as a family

We are confident that you will encourage your child to read regularly at home and consider including 30 minutes of reading time as a daily homework task. We know that many of you already include this in your daily routine at home. As a general reminder, please ensure that your child has a reading book to take to school with them every day and encourage them to visit our school library regularly. Additionally, please check your child's reading progress on page ten of their school planner.
Mr D Lee, Literacy Coordinator, Md. G Morris, Librarian.
Websites and local library information
Is your child's reading book within their reading zone? Check here.

For book suggestions, recommendations and reviews: View the Love Reading website here. View the Book Trust website here.

View Enfield Libraries website here.