Heron's First Year 7 Millionaire Reader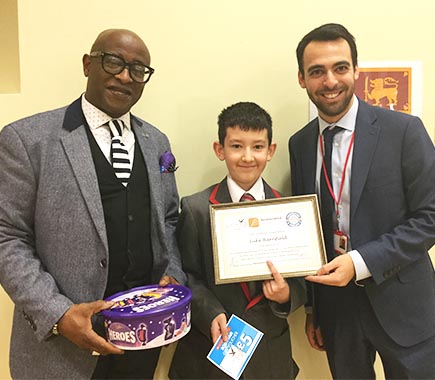 Millionaire Reader

We are extremely proud to announce that we have our first Year 7 Millionaire Reader. Luke, has read 1.2 million words since the start of term using Accelerated Reader.
He is a ferocious reader and has read the whole Harry Potter series this term. He and has now moved onto the 13-book series, The Series of Unfortunate Events by Lemony Snicket. This series was only recently added to our library a fortnight ago and Luke is already reading book #3, incredible.
Luke was presented with a framed certificate, a tub of chocolates, an 'Epic Achievement' lapel badge and a £5 book voucher to spend at our Scholastic Book Fair. An incredible achievement.
Md G Morris said "This is a fantastic achievement that should be shouted from the rooftops, well done Luke."
Read more
Accelerated Reader, an online reading assessment and progress tracker, has been launched at Heron Hall Academy.

Accelerated Reader gives teachers the information they need to monitor students' reading practice and make informed decisions to guide their future learning.

A comprehensive set of reports reveals how much a student has been reading, at what level of complexity, and how well they have understood what they have read.

Vocabulary growth and literacy skills are also measured, giving teachers insight into how well students have responded to reading schemes and class instruction.