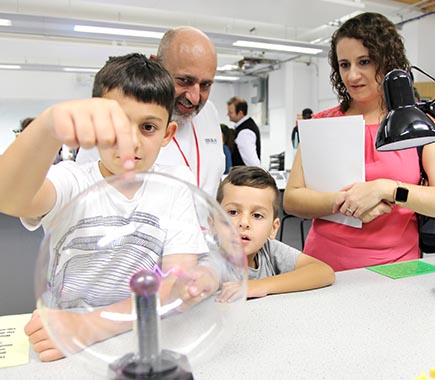 Come and look around!
Open mornings are very important opportunities for parents and carers of prospective students to come into the school.
We love showing parents around our school!
We had record numbers visiting the school at our recent Open Evening - reflecting the increasing popularity and growing reputation of Heron Hall Academy.

With great GCSE exam results, a first-class teaching team and some of the very best educational and sporting facilities in the borough,  we hope we can show you why we believe you should make us the first choice for your child.

See the school in action
We would be delighted to welcome you to one of our 'See the school in action' Open Mornings. These will run 14-18 October (Monday to Friday) at 9.30am for an hour. Headteacher, Arthur Barzey, will then meet parents and can answer any additional questions about the school.
There is no need to book.

Finally, we would like to wish you every success in securing a secondary place for your child, where ever you decide is best for them.

Open mornings will vary but could include:

45 minute tour of the school with a senior teacher/ leader 
Opportunity to see the school in action with pupils 
Picking up an information pack
Your opportunity to ask questions 
Meet the headteacher

We look forward to welcoming you to our fantastic school.